Dr. Laura Schmidt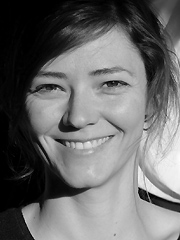 Photo: Laura Schmidt
research associate
Address
Universität Hamburg
Bundesstraße 55
20146 Hamburg
Office
Geomatikum
Room: 737
Contact
Key aspects of activity
Transdisciplinary research and methods
Sustainability-related science studies
Postdevelopment and postcolonial theories
Regional focus: Southern Africa
CV
Since 2017
Research fellow at the Institute of Geography, University of Hamburg, working group "Critical geographies of global inequalities"
2017
Doctorate at the Institute of Geography, University of Hamburg

Title: "Multiple epistemologies, multiple interests. Tracing transdisciplinary research in the postcolonial making"
2016-2017
2012-2016
Research fellow at the Biocenter Klein Flottbek, University of Hamburg in the coordination team of the BMBF-funded project "The Future Okavango – TFO"
2011-2012
Research fellow at the Institute of Geography, FU Berlin, working group "Development geography"
2007-2011
Masters in "Geography: Global change and sustainability", Leopold-Franzens-Universität Innsbruck, Austria

Master thesis: "From international environmental policy to local resource conservation. The example of a community-based forest management in Madagascar"
2004-2007
Bachelor in "Cultural geography & area studies", Friedrich-Alexander-Universität Erlangen-Nürnberg
Publications
2018
Schmidt, L., Hartberger, K., Kobbe, S., Falk, T., Wesselow, M. & Schumann, C. (2018): Stakeholder involvement in transdisciplinary research - lessons from three projects on sustainable land management in a North-South setting. In: GAiA, 27/3: 312-320.
2017
Schmidt, L. (2017): Multiple epistemologies, multiple interests: tracing transdisciplianry research in the postcolonial making. Hamburg. (Dissertation)
Schmidt, L. & Neuburger, M. (2017): Trapped between privileges and precariousness: Tracing transdisciplinary research in a postcolonial setting. In: Futures, 93: 54-67.
Schmidt, L. & M. Pröpper (2017): Transdisciplinarity as a real-world challenge. A case study on a North-South collaboration. In: Sustainability Science, 12(3): 365-379.
2015
Pröpper, M., Gröngröft, A., Finckh, M., Stirn, S., De Cauwer, V., Lages, F., Masamba, W., Murray-Hudson, M., Schmidt, L., Strohbach, B. & N. Jürgens (2015) (Hrsg.): The Future Okavango. Findings, Scenarios and Recommendations for Action. Hamburg.
Musekamp, C., Quillérou, E., Favretto, N., Falk, T., Salha, A., Schmidt, L., Reed, M., & S. Buckmaster (2015): ELD Initiative: Pathways and options for action and stakeholder engagement, 2015 ELD MOOC "Stakeholder Engagement". Practitioner's Guide.
2013
Schmidt, L. et al. (2013): Transdisciplinary research and stakeholder involvement. A review of the TFO approach.  In: Oldeland, J. Erb, C., Finckh, M., Jürgens, N. [Eds.]: Environmental Assessments in the Okavango Region. Biodiversity & Ecology, Vol. 5, 195–212.
2012
Segebart, D., Aloglu, D., Mawlong, L., Betz, J., Lankarani, N. & L. Schmidt (2012): Internationalität in Gender Studies - Reflexionen aus Indien und der Türkei. In: Querelles. Jahrbuch für Frauen- und Geschlechterforschung Bd. 16.
---