Dr. Lea Scharff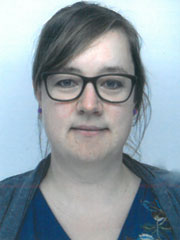 Scientist
Address
Universität Hamburg
Bundesstrasse 55
20146 Hamburg
Office
Geomatikum
Room: 1316
Contact
Research Interests
My research interests cover numerical modeling of developing volcanic ash clouds, monitoring of active volcanoes and the development of new measuring devices and monitoring systems. My current focus is on the development of software for controlling and data storage of the monitoring systems as well as the processing and interpretation of multi-disciplinary and complex data sets.
Since 2005 I mainly work on Doppler radar data that has been acquired at several different volcanoes worldwide. The Doppler radar is a modified mobile rain radar manufactured by Metek company. The volcanology group at our institute owns several different versions, each adapted to specified research questions, and we closely work together with Metek for innovations. The special software for the volcano radar is developed and continuously adapted to new scientific questions by our group under my lead.
The analysis of radar data comprises the characterization of the volcanic activity via statistical methods, the estimation and determination of several physical parameters and processes via inversion as well as the comparison of these results to other observations, data sets (i.e. infrasound or thermographic measurements) and synthetic data from numerical modeling.
My own motivation is to better understand the physics of the volcanic system to better constrain the volcanic hazards. The basic processes that lead to a volcanic eruption (degassing of magma and build-up of pressure in the edifice) are well known. Even the style and size of a future volcanic eruption can be determined (to a first order approximation) simply by knowing the SiO2 content of the magma defining its viscosity, as has been identified by geological and mineralogical research. However, each volcanic system is unique due to its geological setting and history. To determine the fundamental physical parameters of these systems for a reliable hazard classification and thus defining proper monitoring tools for those physical parameters is in my opinion the most important quest in current volcanological research.
Teaching Experience
BSc.-Program
Exercise course in Geodynamics and Geothermal Energy
Basic Seminar
Supervision and review of bachelor's thesis (#reviews: 24)
MSc.-Program
Linear and Non-linear Inversion Problems, Lecture and Exercise course
Seminar Volcanology
Supervision and review of master's thesis (#reviews: 3)
Outreach activities
Presentation 'What do geophysicists do?' at annual 'Girls' Day'
CV
Since August 2012 Post-Doc Research Assistant in the Volcanology group
Juli 2012 Doctoral degree with title:
Eruption Dynamics of Vulcanian and Sub-Plinian Volcanoes: From the Generation of Pulses to the Formation of Clouds (in English)
2007-2012 PhD in the Volcanology group, within the DFG-Project: 'The dynamics of vulcanian, subplinian, and plinian eruptions'
2006 Graduation (Diplom) in Geophysics. Title (only in German):
Die Eruptionsdynamik des Stromboli: Eine kombinierte Auswertung von Doppler Radar- und Infrasounddaten.
2000-2006 Study in Geophysics at the Universität Hamburg
Selected Publications
Matthias Hort and Lea Scharff (2016) Detection of Airborne Volcanic Ash Using Radar. In: S. Mackie, K. Cashman, H. Ricketts, A. Rust and M. Watson (Eds.), Volcanic Ash, Elsevier BV, 131-160, doi: 10.1016/b978-0-08-100405-0.00013-6

Lea Scharff, Matthias Hort, and Nicholas R. Varley (2015) Pulsed Vulcanian explosions: A characterization of eruption dynamics using Doppler radar. Geology, 43, 995-998 doi: 10.1130/G36705.1

Lea Scharff, Matthias Hort, and Alexander Gerst (2014) The Dynamics of the Dome at Santiaguito volcano, Guatemala. Geophysical Journal International, 197, 926-942, doi: 10.1093/gji/ggu069

Lea Scharff, Florian Ziemen, Matthias Hort, Alexander Gerst, and Jeffrey B. Johnson (2012) A detailed view into the eruption clouds of Santiaguito volcano, Guatemala, using Doppler radar. Journal of Geophysical Research, 117, doi:10.1029/2011JB008542
A list of all publications can be found here
or using GOOGLE SCHOLAR here.
My Job
(in up-goer-five style english, using only the ten-hundred most used words)
In my job, I am looking at hard stuff and tiny rocks that come out of our home rock, when it has to let go some hot and wet air. I am especially interested in how fast this stuff is, because it may tell me something about the mood of the inner part of our home rock. Stuff is fast, when force is high, which means that our home rock's inner part is not feeling good. If our home rock is sick, it has to let go stuff and air very often and maybe even every few minutes or hours or so. But sometimes we can not see that our home rock is sick and stuff comes out of higher ground without clear warning. Some sense things, however, can feel rock becoming sick and give a warning so that people don't get hurt.
Most of the stuff goes up with the hot and wet air, but sometimes it is too heavy and falls back down. I use a sense thing to see how fast stuff goes up and how fast it falls back down. Stuff falls fast when it is large and slow when it is small. My sense thing tells me how much large stuff and how much small stuff is there.
The smallest hard stuff stays in the air. It can make us sick and it can hurt flying things with people in them. Because of that we need to know when stuff comes out of rocks, how big it is and where it goes. Computer-try-outs can figure out where the stuff goes but they have to know before-hand where the stuff comes from and how much there is. My sense thing tells me that, but only at one place on our home rock.
Some computer-try-outs think that all stuff comes out at once or what comes out is the same during some time. But my sense thing says that this is not true. Stuff comes out in several steps. And this changes where the stuff goes. But we still need to figure out, how. And this is my job.
If you want to type your own up-goer-five text click here.
---