Dr. Dirk Becker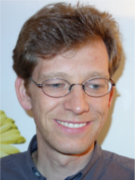 Scientist
Seismology
Address
Universität Hamburg
Bundesstrasse 55
22049 Hamburg
Office
Geomatikum
Room: 1314
Contact
Research Interests
The main focus of my work in recent years has been the analysis of brittle fracture induced in the near surface due to human activity. The extent of the corresponding rupture surfaces of these microseismic events caused by anthropogenic stress changes is on the order of a few mm or cm in the case of former salt mines and reaches up to 10s or 100s of meters in the case of activity in connection with active coal mining or the extraction of hydrocarbons. By analyzing the spatio-temporal variation of this microseismic activity and by comparison with statistical models as well as calculated stress changes a better understanding of these rupture processes and a possible mitigation of their associated hazards is intended.
A further research topic is the exact opposite of microseismicity considering the spatial scale of possible rupture processes: the occurrence of large subduction earthquakes and the investgation of plate coupling in the subduction zone. Here, a better understanding of the parameters (e.g. age of the lithosperic plates, dip angle, topography) controlling the coupling between the plates and thus producing plate segments with mega thrust events on the one hand and mostly aseismic behavior on the other hand is intended.
Since 01.06.2015 the BMBF-funded 'SIMULTAN'-project investigates the hazard in the urban environment caused by sinkhole activity. These are near surface collapse structures caused by the dissolution and removal of soluble rocks (e.g. salt) in the subsurface. In order to obtain a better process model for this potential geohazard a multi disciplinary research endeavor utilizing different geophysical methods (passive and active seismics, gravimetry, GPS, borehole analysis, etc.) will target a sinkhole site in the city of Hamburg. The University of Hamburg contributes to this project the seismological real-time monitoring and the evaluation and analysis of possible microseismic events as well as the characterization of the urban seismic noise field and the determination of subsurface parameters using seismological anlysis.
Teaching Experience
BSc.-Program
Lecture Introduction to Seismology
Lecture Introduction to Geophysics
Msc.-Program
Lecture Rupture Processes
Outreach activities
Cooperation with the initiative NaT in the installation of school seismometers in Hamburg schools (https://www.min.uni-hamburg.de/min-schulportal/initiative-nat/geophysik.html)
Hands-on earthquake experiments for the 'Girls' Day' and the 'Nacht des Wissens' ('Night of Knowledge')
CV
2015 Stand-in professor for seismology University Hamburg
2010-2014 Research assitant University Hamburg within the DFG-Project 'Microseismicity as indicator for stress and structure (MISS)'
2007-2009 Research assistant at the FU Berlin within the PHASE-consortium
2006-2007 Parental leave
2002-2006 Research assistant Ruhr University Bochum within the SFB 526 'Rheologie der Erde' (Collaborative research center 526 'Rheology of the earth')
2001-2002 Researcher at GeoPro GmbH Hamburg for geophysical exploration
2001 Diploma in Geophysics from the University Hamburg
Selected Publications
Becker, D. Cailleau, B., Kaiser, D., Dahm, T. (2014). Macroscopic failure processes at mines revealed by acoustic emission (AE) monitoring. Bull. Seismo. Soc. Am. 104(4), 1785-1801, doi:10.1785/0120130286.

Wehling-Benatelli, S., Becker, D., Bischoff, M., Friederich, W., Meier, T. (2013). Indications for different types of brittle failure due to active coal mining using waveform similarities of induced events. Soli Earth, 4, 405-422, doi:10.5194/se-4-405-2013.

Dahm, T., Becker, D., Bischoff, M., Cesca, S., Dost, B. Fritschen, R., Hainzl, S., Klose, C.D., Kühn, D., Lasocki, S., Meier, T., Ohrnberger, M., Rivalta, E., Wegler, U., Husen, S. (2013). Recommendations for the discrimination of human-related and natural seismicity. J. Seismol., 17, 197-202, doi:10.1007/s10950-012-9295-6.
Becker, D., Cailleau, B., Dahm, T., Shapiro, S., Kaiser, D. (2010). Stress triggering and stress memory observed from acoustic emission records in a salt mine. Geophys. J. Int., 182, 933-983, doi: 10.1111/j.1365-246X.2010.04642.x.

Becker, D., Meier, T. (2010). Seismic slip deficit in the southwestern forearc of the Hellenic Subduction Zone. Bull. Seismo. Soc. Am., 100 (1), 325-342, doi:10.1785/0120090156.

Becker, D., Meier, T., Bohnhoff, M. Harjes, H.-P. (2009). Seismicity at the convergent plate boundary offshore Crete, Greece, observed by an amphibian network. J. Seismol., 14 (2), 369-392, doi:10.1007/s10950-009-9170-2.