Dr. Shabeh Ul Hasson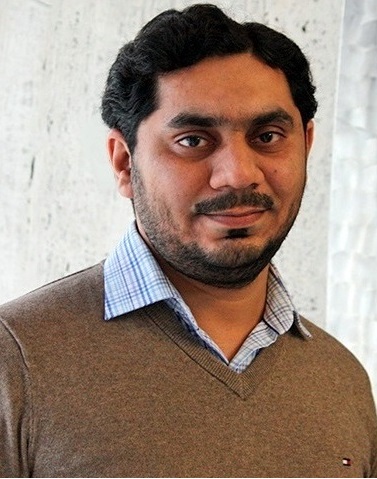 researcher
Address
Universität Hamburg
Bundesstraße 55
20146 Hamburg
Office
Geomatikum
Room: 805A
Contact
Key aspects of activity
GIS & Remote Sensing
Regional Climate Modeling (WRF)
Tibet and the Himalya
Project CLASH
Publications
Peer reviewed articles
2018
Elahi, E., Abid, M., Zhang, H., Weijun, C., Hasson, S.: Domestic water buffaloes: access to surface water, disease prevalence and associated economic losses, Preventive Veterinary Medicine, 2018. [pdf]
Hasson, S., Böhner, J., Chishtie, F.: Low Fidelity of present-day climate modelling experiments and future climatic uncertainty over Himalayan watersheds of Indus basin. Climate Dynamics, 2018. [pdf]
2017
Hasson, S., Böhner, J., and Lucarini, V.: Prevailing climatic trends and runoff response from Hindukush–Karakoram–Himalaya, upper Indus Basin, Earth Syst. Dynam., 8, 337-355, 2017. [pdf]
Karki, R., Hasson, S., Schickhoff, U., Scholten, T., Böhner, J.: Rising Precipitation Extremes across Nepal. Climate, Climate, 5, 4, 2017. doi:10.3390/cli5010004. [pdf]
Karki, R., Hasson, S., Gerlitz, L., Schickhoff, U., Scholten, T., and Böhner, J.: Quantifying the added value of high resolution climate models: A systematic comparison of WRF simulations for complex Himalayan terrain, Earth Syst. Dynam., doi:10.5194/esd-2017-31, 2017. [pdf]
2016
Hasson, S.: Future Water Availability from Hindukush-Karakoram-Himalaya upper Indus Basin under Conflicting Climate Change Scenarios. Climate. 26;4(3):40, 2016. [pdf]
Hasson, S., Seasonality of Precipitation over Himalayan Watersheds in CORDEX South Asia and their Driving CMIP5 Experiments, Atmosphere, 7(10), 123, 2016. doi:10.3390/atmos7100123. [pdf]
Hasson, S., Pascale, S., Lucarini, V., & Böhner, J.: Seasonal cycle of precipitation over major river basins in South and Southeast Asia: a review of the CMIP5 climate models data for present climate and future climate projections, Atmospheric Research, 180, 42-63, 2016. doi:10.1016/j.atmosres.2016.05.008. [pdf]
2015
Pascale, S., Lucarini, V., Feng, X., Porporato, A., & Hasson, S.: Projected changes of rainfall seasonality and dry spells in a high concentration pathway 21st century scenario, Clim. Dyn., 2015. doi:10.1007/s00382-015-2648-4. [pdf]
10. Salik, K. M., Jahangir, S., Zahdi, W. Z., & Hasson, S.: Climate change vulnerability and adaptation options for the coastal communities of Pakistan, Ocean & Coastal Management, 112, 61–73, 2015. doi:10.1016/j.ocecoaman.2015.05.006. [pdf]
2014
Hasson, S., Lucarini, V., Pascale, S., & Böhner, J.: Seasonality of the hydrological cycle in major South and Southeast Asian river basins as simulated by PCMDI/CMIP3 experiments. Earth System Dynamics, 5, 67-87, 2014. doi:10.5194/esd-5-67-2014. [pdf]
Hasson, S., Lucarini, V., Khan, M. R., Petitta, M., Bolch, T., and Gioli, G.: Early 21st century snow cover state over the western river basins of the Indus River system, Hydrol. Earth Syst. Sci., 18, 4077-4100, doi:10.5194/hess-18-4077-2014, 2014. [pdf]
Pascale, S., Lucarini, V., Feng, X., Porporato, A., & Hasson, S.: Analysis of rainfall seasonality from observations and climate models. Climate Dynamics, 44, (11–12), pp 3281–3301, 2014. doi:10.1007/s00382-014-2278-2. [pdf]
2013
Hasson, S., Lucarini, V., & Pascale, S.: Hydrological cycle over South and Southeast Asian river basins as simulated by PCMDI/CMIP3 experiments. Earth System Dynamics, 4(2), 199-217. doi:10.5194/esd-4-199-2013, 2013. [pdf]
 
Book chapters/Technical Reports
2018
Hasson, S. and Böhner, J.: "Hydrological Cycle over Indus Basin at Monsoon Margins: present and future", In Indus River Basin: Water Security and Sustainability, Elsevier, 2018.
2016
Hasson, S., Gerlitz, L., Scholten, T., Schickhoff, U., and Böhner, J.: "Recent Climate Change over High Asia", In Climate Change, Glacier Response, and Vege tation Dynamics in the Himalaya, pp. 29-48. Springer International Publishing, 2016. [pdf]
2009
Ali, G., Hasson, S., and Khan, A. M.: Climate Change: Implications and Adaptation of Water Resources in Pakistan, GCISC-RR-13, Global Change Impact Studies Centre (GCISC), Islamabad, Pakistan, 2009.
Ph.D. Thesis
Fidelity of simulated hydrological cycle over Himalayan watersheds: peculiarities of the (upper) Indus basin at monsoon margin
Workshop/Conference Proceedings
2013
Hasson, S.: Impact of Climate Change on the Indus River Flows, CliSAP conference on Climate Change and Environmental Pressure: Adaptation and Resilience of Local Communities in the Hindu-Kush-Himalaya, 9-11 October, Hamburg, Germany, 2013.
2011
Modeling the Hydrological Response of Glacierized Catchment in the HKH region: (Results from Cooperative Activities, Continuation), Workshop on "Strengthening North-South Cooperation in Climate Change Research: an Initiative for the Upper INDUS River Basin", Institute of Environmental Engineering, Chair of Hydrology and Water Resources Management, ETH – Zurich, Switzerland, May 2-6, 2011.
Emerging Challenges for Water Resources of Pakistan, Scoping Workshop on Enhancing Science-Policy Dialogueon Himalayan Water Resources in the Global Change Context, Kathmandu, Nepal, 21-22 Feb, 2011.
2010
Climate Change Impacts on Flow Regime of Highly Glacierized Basin, Western Karakoram: Case Study of Hunza Basin (Interim Results APN ARCP2008-16NMY-Shrestha), Workshop on "Regional Climate Models and downscaling procedures for climate change impacts", CeG, Newcastle University, UK, 28 November to 19 Dec, 2010.
Climate Change Impacts on Freshwater Resources of Pakistan, National Workshop on Application of Isotope Techniques in Water Resources Research and Management, PINSTECH Islamabad, Pakistan, 4-7 Oct, 2010.
Application of TOPKAPI Model over Hunza River Basin, Pakistan: Progress and Implications, Workshop on Snow and Glacier Runoff Modelling in Indus Basin, ICIMOD, Pakistan, 20-23 Sep, 2010.
2009
Concept paper "Climate Change Challenge for Freshwater Resources of Pakistan" published in COMSATSCOMSTECH National Proceedings, Volume#14, Challenges for Socio-economic Development in Pakistan: Role of Science & Technology", 26-28 October, 2009.