Dr. Thorben Amann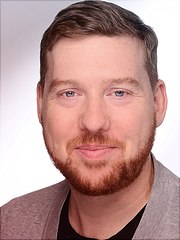 Photo: Thorben Amann
Scientist
Address
Universität Hamburg
Bundesstraße 55
20146 Hamburg
Office
Room: 1421
Contact
curriculum vitae
Working experience
October 2013- today
Postdoctoral researcher, Institute for Geology, CEN, University of Hamburg
April 2009 – June 2013
Research assistant, Institute for Biogeochemistry and Marine Chemie, University of Hamburg
2005 – 2009
Graduate assistant, Institute for Biogeochemistry and Marine Chemie, University of Hamburg
Planning and participation in several research cruises (F/S Heincke 227,  F/S Sonne 187-3, fisherboat Mekong delta, Vietnamese Navy ship HQ638, Pelagia 64PE302).
2003 – 2004
Graduate assistant at the Geological Institute, RWTH Aachen University
Academic education
2014
Doctoral thesis "Spatio-temporal variability of carbon and silica fluxes through the inner Elbe estuary, Germany"
2008
Diploma thesis "Primary production and advection of particulate matter in the upwelling area off Vietnam"
2008
Diploma mapping "Structural mapping of the Forcada-unit in the southern Cantabrian Mountains, Northern Spain"
2004-2009
Advanced studies in Geology at the University of Hamburg
2002-2004
Basic studies in Geology at the RWTH Aachen University
Projects
Current projects
Former projects
ESTUCARB
Promotionsthema "Das Elbeästuar als Übergangsbereich zwischen terrestrischen und marinen Systemen"
Ästuare wirken im Übergangsbereich zwischen terrestrischen und marinen Systemen als Filter für fluviatil transportiertes Material auf dem Weg zur Küste. Wie viele andere Ästuare in Europa, fließt auch die Tide-Elbe durch dicht besiedeltes Gebiet, das durch einen hohen Grad an Industrialisierung gekennzeichnet ist. Daher ist der anthropogene Einfluss auf das biogeochemische Geschehen im Gewässer signifikant.
Studien über europäische Ästuare legen nahe, dass die inneren Ästuare ungefähr die gleiche Menge an klimarelevanten Gasen an die Atmosphäre abgegeben, wie auf den Schelfgebieten durch biologische Aktivität gebunden wird. Daher liegt der Fokus der Studie auf der Budgetierung des Kohlenstoffhaushaltes im Elbeästuar. Insbesondere wird die Emissionsdynamik klimarelevanter Gase aus dem Gewässer untersucht. Hierfür ist eine monatliche und räumlich hochaufgelöste Beprobung des Elbeästuars (Geesthacht bis Cuxhaven) über zwei Jahre geplant.

Folgende Parameter werden gemessen: pH, elektrische Leitfähigkeit, Gesamtalkalinität, partikuläre und gelöste Kohlenstoffkomponenten (organisch & anorganisch), gelöstes und biogenes SiO2, Nährstoffspezies von Stickstoff und Phosphor sowie weitere relevante gelöste Komponenten. Auch die Qualität und Struktur der Schwebstoffe wird analysiert.

Um eine sichere Quantifizierung für die Emissionen klimarelevanter Gase zu ermöglichen, wird eine neue Berechnungsmethode entwickelt. Neben geologischen, chemischen, biologischen Parametern werden auch physikalische Parameter wie Tiden, Wasserfluss, Globalstrahlung und Temperatur in das Modell integriert. Letztere ermöglichen auch eine Projektion der Ergebnisse in die Zukunft. Eine Integration des Modells in regionale Klima- und Ökosystemmodelle ist angestrebt.
Teaching
Sommersemester 

BSc Geowissenschaften: 
 Geochemische Übung: Aquatische Geochemie 
MSc Geowissenschaften: 
 Praktische Übung: Land-Ozean Stofftransporte 

Wintersemester

BSc Geowissenschaften:
Vorlesung + Übung: Makroskopische Gesteinsbestimmung
MSc Geowissenschaften: 
Vorlesung: Climate engineering – Carbon dioxide removal and other options