Project: Ethiopia
Feasibility study for a UNESCO biosphere reserve Desa'a Forest –
Improved protection of afromontane dry forests through participatory forest management, stronger integration of local interests and community-based raising of environmental awareness in Ethiopia.

Ethiopia is still one of the world's least developed countries and faces great social, economic and ecological challenges. Rapid demographic and economic growth is currently generating extremely dynamic socio-economic transformation processes, resulting in massive overexploitation of natural resources and unsustainable land use strategies. Ethiopia's once extensive forest resources have declined from around 40% at the beginning of the century to less than 3% in 2018. The Desa'a Forest in Tigray is one of the largest remaining forest stands in the dry forest zone of northern Ethiopia. As a biodiversity hotspot with a significant function for the landscape water balance, it secures the subsistence economy of more than 250,000 people in 34 surrounding communities. Illegal logging and agricultural expansion have reduced the Desa'a Forest area by approx. 40% between 1972 and 2018. In order to avoid further forest degradation and decline, the implementation of sustainable land and forest management strategies with the strong involvement of the local population is urgently required, as exemplified in particular within the framework of UNESCO biosphere reserves. The objective of this R&D project is the conception and establishment of a UNESCO biosphere reserve Desa'a Forest in cooperation with the regional government of Tigray. The overall project is subdivided into a research-oriented and an application-oriented segment.
The research-oriented segment of the project is based on the theoretical perspective of political ecology and examines (1) how local interests, capacities and knowledge resources can be most effectively integrated into regionally adapted and holistically oriented forest management strategies using participatory methods, (2) how social awareness for socio-ecological conflict constellations and sustainable land use strategies can be raised on community level, and (3) how a corresponding participatory forest management (PFM) affects the local acceptance, social viability and effectiveness of a large-scale protected area. Methodologically, the study operates within the framework of community-based participatory research (CBPR). This explorative and action-oriented approach seeks in close cooperation with local stakeholders practical solutions for acute problems of applied development cooperation, focusing on awareness building, capacity building and empowerment of local structures.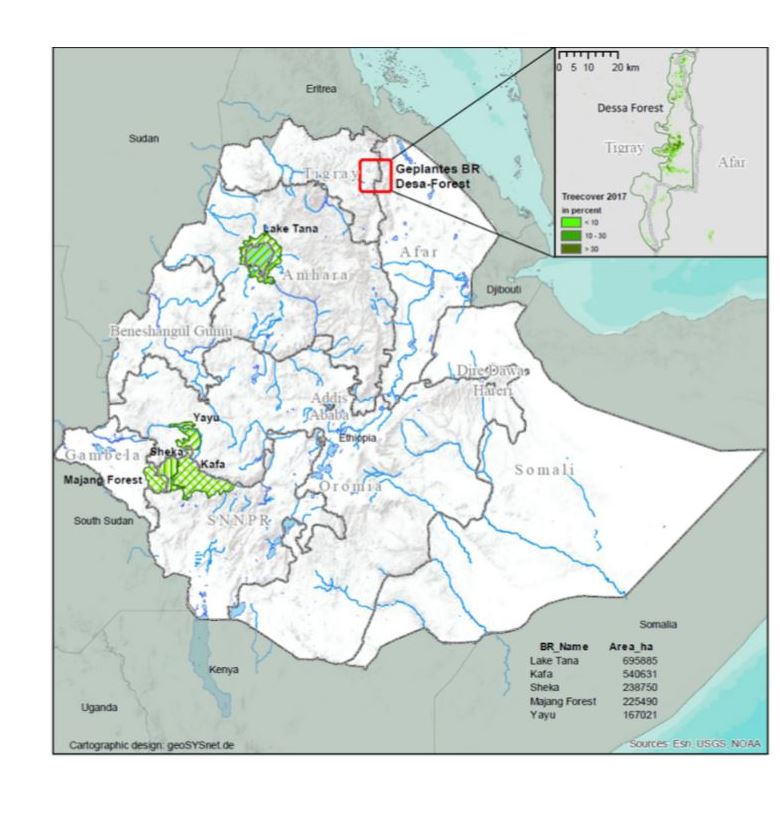 The application-oriented segment continuously integrates the findings of the research-oriented segment during the course of the project. The primary objective is the conception of a nomination proposal for a UNESCO biosphere reserve Desa'a Forest in cooperation with the responsible regional government on the basis of the developed framework of an effective and regionally tailored PFM. In addition, a competence network for the transfer and exchange of international knowledge regarding the establishment of biosphere reserves with the involvement of local, regional and national stakeholders will be established.Furthermore, a Green Church programme will be conducted to strengthen environmental awareness among the local population through the local religious institutions.
Initial implementation steps of the participative management concept comprise the creation of a legislative framework and the demarcation and zoning of the future biosphere reserve. The project duration is 18 months. Subsequently, a joint follow-up project with the Mekelle University and the regional government of Tigray is planned, in which the further steps of the establishment of the biosphere reserve and the preparation of a corresponding monitoring concept will be realized.


Duration:                     2020-2021
Coordination:             Prof. Udo Schickhoff, CEN; M.Sc. Simon Strobelt, CEN
Project consulting:   Michael Succow Foundation
Project funding:         The Deutsche Bundesstiftung Umwelt DBU (German Federal Foundation for the Environment)
Cooperation Partners
The Government of the National State of Tigray
Dr. Atinkut Mezgebu Wubneh (Direktor)
Bureau of Agriculture & Rural Development
Mekelle, Äthiopien
Tel.: +025-0344403663
E-mail: atinkut.mezgebu@mu.edu.et
Mekelle University
Prof. Dr. Mitiku Haile (Institutsleitung)
Department of Land Resource Management and Environmental Protection
Mekelle, Äthiopien
Tel.: +025-1914706758
E-mail: gualmitiku@yahoo.com
Ethiopian Orthodox Church
Dr. Agedew Redie (Commissioner)
Ethiopian Orthodox Church – Development and Inter-Church Aid Commission (EOC-DICAC)
Addis Ababa, Äthiopien
Tel. : +251-111553566
E-mail: eoc.dicac@ethionet.et
WeForest Ethiopia
Dr. Aklilu Negussie Mekuria (WeForest Länderbeauftragter & Projektmanager)
Desa'a Forest-Projekt
Mekelle, Äthiopien
Tel.: +025-1920743719
aklilumekuria@weforest.org
Brot für die Welt
Christoph Schneider-Yattara (Regionaldirektor)
Verbindungsstelle Horn von Afrika
Addis Abeba, Äthiopien
Tel.: +025-1946731042
E-mail: csyattara@gmail.com



Deutsche Gesellschaft für Internationale Zusammenarbeit (GIZ) GmbH
Dr. Ulrich Müller (Projektleiter)
Biodiversity and Forestry Programme (BFP)
Addis Abeba, Äthiopien
Tel.: +025-1963048322
E-mail: ueli.mueller@giz.de