Project: TFO
The Future Okavango - Scientific support for sustainable land and resource management in the Okavango basin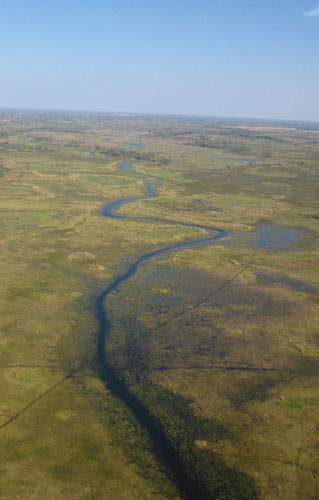 Subproject 09.2 - GIS-based Landscape Analyses, EnvironmentalModelling, and Decision Support for Integrated Resource Management
The aim of project TFO (The Future Okavango) is to support sustainable land-use in Angola, Botswana and Namibia, the three countries sharing the Okavango catchment. The case study region, a system of forest savannas, floodplains and wetlands, is threatened by rapid transformation through climate change, population growth and overuse of resources which has the potential to lead to conflicts about land and water. Thus, there is a growing demand for scientific contributions which address current problems in the field of land-use. Furthermore, an innovative and transdisciplinary approach has the potential to further improve cooperation between science and decision-makers and lead to practical application of project results. We think of the Okavango catchment as a model region in need of a better understanding of the connections and interactions between land use, ecosystem functions and climate. Present ecosystem services and their interactions with land use have to be evaluated – especially in the socioeconomic context – and new potential has to be identified to optimize land use management.

further information
Website Future Okavango
Project Members
Prof. Dr. Jürgen Böhner
Dr. Jan Wehberg
Dr. Olaf Conrad
Thomas Weinzierl, M.Sc.