Project: LOW QM
Project LOW QM – Long-term optimization of water yield from the Qilian Mountains to the HeiHe River basin by an integrated development of water protection forests and land-use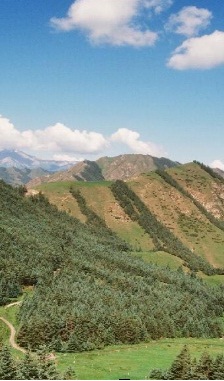 The water resources in the high elevation areas of the Qilian Mountains (up to 4000-5000 m a.s.l.), along the border of the Tibetan Plateau are the only reliable source of water supply for the arid low lands in the HeiHe river basin, in the north-western part of the province of Gansu (NW China). Urban water supply and irrigation agriculture in the HeiHe river basin depend largely on the steadiness of water yield from the mostly non-perennial tributaries in the source regions in the Qilian. Due to extreme climate (precipitation mainly in the form of thunderstorms, large permafrost areas) and site conditions (steep slopes, shallow soils), runoff from the catchments in the Qilian Mountains is generally very dynamic with high proportions of fast runoff components (surface runoff, interflow). The most principle way to enhance the landscape water balance and to get a more steady water yield from the source regions in the Qiilian Mountains is to avoid fast runoff and enhancing water infiltration in the soils.
When long-term management changes are to be planned in the Qilian Mountains, climate change aspects need also be taken into consideration. According to modeling results of Böhner and Lehmkuhl (2005) future climate change will result in significant reduction of glaciated and permafrost areas in the Qilian Mountains. On the one hand this reduces the long-term runoff from the high mountain areas since the area of glaciers and permanent snow fields will be reduced. On the other hand it enhances the conditions for establishing stable forest belts at the slopes of the mountain and also in areas of higher elevation. Furthermore, increasing water loss through increased evapotranspiration also needs to be assessed.
The lumped models and the distributed models require high resolution (hourly) time series of meteorological parameters, which will be provided using a comprehensive regional climate modelling approach. In WP 2 downscaling of weather data from global weather forecast models to a local scale with high resolution in time will be performed using a mixed deterministic /statistical modeling approach and surface parameterization methods. In order to enable a physically consistent simulation of climate variables for both recent and future time slices, the regional model will be forced and controlled by global atmospheric data (NCAR / NCEP-CDAS or ERA40 re-analyses and GCM scenario runs). Two consecutive dynamical downscaling steps will be performed using the non-hydrostatic Regional Climate Model WRF (Weather Research and Forecasting, Done et al. 2004). Climate variables of higher spatial resolution will be estimated using statistical downscaling (Böhner 2006) and terrain parameterization methods (Böhner & Antonic 2008). The climate modelling task will be performed by a Chinese PhD student in the group of Prof. Dr. Böhner, Univ. Hamburg in co-operation with Prof. Wang Bing from the Chinese Academy of Forestry. The entire modelling approach will be later (in a follow-up project) an important key for extrapolation of the model results to the entire source region of the HeiHe.
Project Members
Prof. Dr. Jürgen Böhner
Prof. Dr. Udo Schickhoff
Eleonore Rauch
Tobias Kawohl
Alina Baranova
---
Contact
Full Professor
Bundesstraße 55, Room 814
20146 Hamburg
Contact
Professor of Physical Geography
Bundesstraße 55, Room 819
20146 Hamburg
Fax: +49 40 42838-4981