Dredged material in dyke construction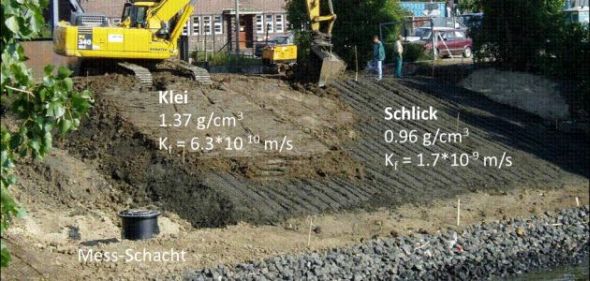 Photo: IfB, UHH
Project description

Dikes are subject to increased requirements with regard to the hydraulic sealing effect of their components (DWA 2005). For dyke construction in coastal areas, natural clay with defined geotechnical properties is usually used to cover the sand core. Since the exploitation of natural clay deposits is associated with considerable land destruction, Hamburg Port Authority (HPA) is striving to replace some of the clay layer with processed dredged material.
The suitability of the material for use in dyke construction has been tested since 2004 with practical field tests in the area of a backfilled harbour basin in the port of Hamburg. The structure and equipment of the test fields allow quantification and analysis of the leachate flowing out of the test fields, whereby test field 1 consists of a sand core with 1 m of clay cover and serves as a reference, while in test field 2 the lower 70 cm of the clay layer was replaced by dredged material. Accompanying excavations have shown that there are significant differences between the dredged material and the clay in terms of structure formation. These differences are basically due to a maturing process in which the dredged material changes primary physical properties and enters a new state of equilibrium.
In-depth investigations in the laboratory will therefore analyse the physical state of the material as well as the long-term behaviour of the potential pollutant discharges dependent on this, comparing the properties of different batches of dredged material with those of the clay normally used in dyke construction.
The aim of the investigations is to use the improved knowledge of the material properties to predict the behaviour of dredged material used in dyke construction with regard to the water and material balance and, based upon these results, to find ways of improving or preconditioning the dredged material for use in dyke construction by modifying the treatment processes.
Publications
Oing, K., 2019. Suitability of Processed Dredged Material from the Hamburg Harbor for Dike Construction. Dissertation Universität Hamburg. Hamburger Bodenkundliche Arbeiten 94, 183 p.
Theses
MSc: Gitte Pohle
BSc: Florian Zander, Malte Bargsten
Diplom: Cindy Streblow
Cooperation partners
Hamburg Port Authority (HPA)
Employees at the Institute of Soil Science