Seismology
Research in the seismology group focuses on the study of the information contained in seismic signals recorded in seismically calm times in the absence of earthquakes. Typically, these signals, which account for over 90% of seismic recordings worldwide, are discarded as "noise." It turns out, however, that this noise is made up of seismic waves that carry the imprint of the sources that produced them and the material they passed through.
The recording of seismic noise can therefore be used for many different purposes: signals obtained from the noise were used to illuminate the Earth's interior and evaluate how its structure changes over time. Applications range from the deep mantle and crust to the flat ground to buildings. The noise itself can tell us how the solid earth interacts with the ocean and the atmosphere, which in turn provides information about weather conditions and climate.
In the seismology group, we "listen" to the seismic background noise to find out how the ocean produces it. We also use the seismic noise that surrounds us to monitor soil changes and damage to buildings. Finally, we are working on a number of projects using new sensor technologies (ring lasers) or developing new applications for established sensors (ocean bottom seismometers).
If you would like to know more about research in the group or about the possibilities for Bachelor's and Master's projects, talk to Prof. Celine Hadziioannou (room 1313 or 1329). To find out more about the individual research projects, look at the list below and talk to the people who work on them!
Investigation of the condition of bridges by means of seismic waves
F. Mehrkens (2019)
Bridges are exposed to heavy loads on a daily basis. In order to be able to withstand these, steel constructions are installed in concrete, among other things. Without them dangerous cracks could arise. These cracks then lead to a change in the propagation velocity of seismic waves and can thus be made visible by passive recording of them. In order to determine the success of such a permanent bridge investigation, measurements are carried out on a 24 meter long test structure, similar to a bridge.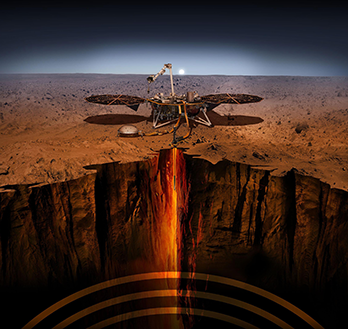 Are there Marsquakes? Mars lander "InSight" and its seismic signals
Contact: Christoph Schröer, Lorenz Marten or David Essing
On November 26, 2018, a seismometer was placed on Mars as part of the InSight mission. In preparation for the evaluation of the data, a blind test with synthetic data was carried out, in which, among others, our working group participated. The challenge: How to localize earthquakes on another planet with just one station and what additional information can be found in the data?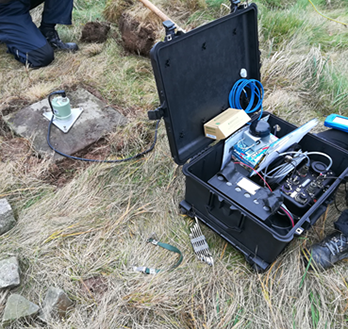 How to use urban noise to monitor the groundwater level?
R. Steinmann (2019)
For some years now, not only more earthquakes are interesting for seismologists, but also the unpopular background noise of the earth. With some tricks you can observe some interesting processes in the earth's interior from the noise. I am concerned with whether Hamburg's urban noise can also be used to monitor superficial processes such as groundwater changes, rain events or temperature fluctuations.
---