Dr. Lea Scharff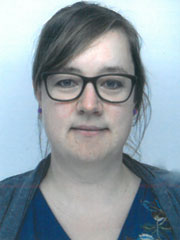 Staff Scientist
Volcanology
Address
Universität Hamburg
Bundesstrasse 55
20146 Hamburg
Office
Geomatikum
Room: 1321
Contact
Research Interests
My research interests cover numerical modeling of developing volcanic ash clouds, monitoring of active volcanoes and the development of new measuring devices and monitoring systems. My current focus is on the development of software for controlling and data storage of the monitoring systems as well as the processing and interpretation of multi-disciplinary and complex data sets.
Since 2005 I mainly work on Doppler radar data that has been acquired at several different volcanoes worldwide. The Doppler radar is a modified mobile rain radar manufactured by Metek company. The volcanology group at our institute owns several different versions, each adapted to specified research questions, and we closely work together with Metek for innovations. The special software for the volcano radar is developed and continuously adapted to new scientific questions by our group under my lead.
The analysis of radar data comprises the characterization of the volcanic activity via statistical methods, the estimation and determination of several physical parameters and processes via inversion as well as the comparison of these results to other observations, data sets (i.e. infrasound or thermographic measurements) and synthetic data from numerical modeling.
My own motivation is to better understand the physics of the volcanic system to better constrain the volcanic hazards. The basic processes that lead to a volcanic eruption (degassing of magma and build-up of pressure in the edifice) are well known. Even the style and size of a future volcanic eruption can be determined (to a first order approximation) simply by knowing the SiO2 content of the magma defining its viscosity, as has been identified by geological and mineralogical research. However, each volcanic system is unique due to its geological setting and history. To determine the fundamental physical parameters of these systems for a reliable hazard classification and thus defining proper monitoring tools for those physical parameters is in my opinion the most important quest in current volcanological research.
Teaching Experience
BSc.-Program
Exercise course in Geodynamics and Geothermal Energy
Basic Seminar
Supervision and review of bachelor's thesis
MSc.-Program
Linear and Non-linear Inversion Problems, Lecture and Exercise course
Excursion to Stromboli Volcano
Exercise course for the Introduction and Application of the Finite Element Method to Geophysical Problems
Seminar Volcanology
Supervision and review of master's thesis
Curriculum Vitae
| | | |
| --- | --- | --- |
| Since August 2012 | | PostDoc Research Assistant in the Physical Volcanology Group |
| Juli 2012 | Promotion | Dissertation Title: Eruption Dynamics of Vulcanian and Sub-Plinian Volcanoes: From the Generation of Pulses to the Formation of Clouds (in Englisch) |
| 2007-2012 | | PhD in the Volcanology group, within the DFG-Project: 'The dynamics of vulcanian, subplinian, and plinian eruptions' |
| 2006 | Diplom in Geophysics | Title (in German): Die Eruptionsdynamik des Stromboli: Eine kombinierte Auswertung von Doppler Radar- und Infrasounddaten. |
| 2000-2006 | | Study in Geophysics at the Universität Hamburg |
A list of all publications can also be found using GOOGLE SCHOLAR.
Supervision of MSc. Thesis
Statistical analysis of repose intervals at Volcán de Colima, A. Schultz, 2016
Supervision of Diplom Thesis
Kalibrierung eines MVR4 Radargerätes, N. Hinze, 2016
Supervision of BSc. Thesis
Kalibrierung eines Dopplerradars - Untersuchung der Amplitudenabnahme, C. Merkens, 2017
Modellierung der Datenverarbeitung des Rückstreusignals eines rotierenden Cornerreflektors in einem Dopplerradar, D. Uhle, 2016
Eruptionsdynamik des Volcán de Colima, F. Röh, 2015
Untersuchung der Gas Slug Länge am Stromboli, T. Ganz, 2014
Untersuchung des Reibungskoeffizienten von vulkanischer Asche, R. Singh, 2014
Deformation im Kraterbereich des Vulkan Stromboli, M. Kreklau, 2014
Die Eruptionsdynamik des Vulcán de Colima, L. Freiwald, 2012