This page:UHH > MIN > Department of Earth Sciences > Geophysics > About the Institute > News > Detecting Marsquakes -- launch of seismometer headed for Mars
Detecting Marsquakes -- launch of seismometer headed for Mars
30 April 2018, by Celine Hadziioannou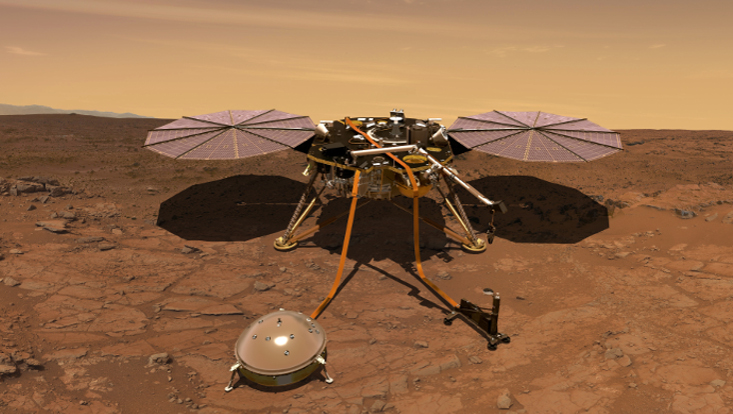 Photo: NASA/JPL-Caltech
Seismology Master students who detected and located Marsquakes in "blind test" challenge will watch InSight mission launch on 5.5.2018.
On May 5th, 2018, a Mars lander with a seismometer on board will launch from the Vandenberg Air Force Base in California, and is scheduled to land on the Elysium Plains on Mars on November 26, 2018. Goal of the "InSight"  mission? To learn more about Mars' interior structure, by analyzing seismic waves sent out by Marsquakes.
"How much can be done with a single seismometer?"
In preparation for the significant challenge of localizing Marsquakes with the single sensor on board of the lander, researchers from ETH Zurich, IPG Paris, Princeton University and NASA JPL have prepared a synthetic dataset, representative of the expected seismological measurements from Mars. Within this dataset, they have hidden hundreds of large and small Marsquake signals. Their challenge to seismologists worldwide: detect and locate these hidden Marsquakes!
A team of master students from the Institute for Geophysics have participated in this "blind test"  challenge, and have performed remarkably well compared to teams of professional seismologists (as presented at EGU in Vienna, and to be published in an accompanying paper).
To celebrate the successful participation in the "blind test challenge" and the launch of the InSight mission, the team will get together in the Geomatikum on 5.5.2018 to watch the mission launch live!