Prof. Dr. Christian Hübscher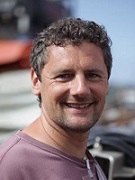 Head Marine Geophysics Group
Address
Universität Hamburg
Bundesstrasse 55
20146 Hamburg
Office
Geomatikum
Room: 1434
Office hours
nach Vereinbahrung
Contact
Fax: +49 40 42838 5441
Recent publications (2016 - )
Nomikou, P., Hübscher, C., Carey, S., 2019. The Christiana-Santorini-Kolumbo Volcanic Field. Elements, 15, 171-176.
Schmidt, C., Hensen, C., Wallmann, K., Liebetrau, V., Tatzel, M., Schurr, S.L.,Kutterolf, S., Haffert, L., Geilert, S., Hübscher, C., Lebas, E., Heuser, A., SchmidtM., Strauss, H., Vogl, J., Hansteen, T., 2019. Origin of high Mg and SO4 fluids in sediments of the Terceira Rift, Azores – indications for caminite dissolution in a waning hydrothermal system. Geochemistry, Geophysics, Geosystems (G-Cubed). DOI: 10.1029/2019GC008525.
Gadol, O., Tibor, G., ten Brink, U., Hall, J.K., Groves-Gidney, G., Bar-Am, G., Hübscher, C., Makovsky, Yizhaq, 2019. Semi‐automated bathymetric spectral decomposition delineates the impact of mass wasting on the morphological evolution of the continental slope, offshore Israel. Basin Research, DOI: 10.1111/bre.12420
Camerlenghi, A., Del Ben, A., Hübscher, C., Forlin, E., Geletti, R., Brancatelli, G., Micallef, A., Saule, M., Facchin, L., 2019. Seismic markers of the Messinian salinity crisis in the deep Ionian Basin. Basin Research, DOI: 10.1111/bre.12392 
Beier, C., Bach, W., Busch, A.V., Genske, F.S., Hübscher, C., Krumm, S.H., 2019. Extreme intensity of fluid-rock interaction during extensive intraplate volcanism. Geochimica et Cosmochimia Acta, 257, 26-48.
Hübscher, C., Al Hseinat, M., Schneider, M., Betzler, C., 2019. Evolution of Contourite Systems in the Late Cretaceous Chalk Sea along the Tornquist Zone. Sedimentology 66, 1341-1360.
Maillard, A., Driussi, O., Briais, A., Chanier, F., Gaullier, V., Garcia, M., Ochoa, D., Hübscher, C., Sage, F., Lofi, J., Sierro, F., Lüdmann, T., 2018. 3.B-Balearic Promontory. MSC-Units. In: Seismic atlas of the Messinian Salinity Crisis markers in the Mediterranean Sea. Volume 2 (ed.: Lofi, J.). Mem. Soc. Géol. Fr. and Commission for the Geological Map of the World, 18-19.
Reiche, S., Hübscher, C., Brenner, S., Betzler, C., Hall, J., 2018. The role of internal waves in the late Quaternary evolution of the Israeli continental slope. Marine Geology, 406, 177-192
Romer, R., Beier, C., Haase, K.M., Hübscher, C., 2018. Correlated changes between volcanic structures and magma composition in the Faial volcanic system, Azores. Accepted for publication in Front. Earth Sci. | doi: 10.3389/feart.2018.00078
Hodgson, D.A., Hogan, K., Smith, J., Smith, Hillenbrand, C-D., Graham, A.G.C.,  Fretwell, P., Allen, C., Peck, V., Arndt, J.-E., Dorschel, B., Hübscher, C., Smith, A.M., Larter, R., 2018. Deglaciation and future stability of the Coats Land ice margin, Antarctica. The Cryosphere, 12, 2383-2399, DOI: tc-12-2383-2018
Marques, F.O.O., Hildenbrand, A., Hübscher, C., 2018. Evolution of a volcanic island on the shoulder of an oceanic rift and geodynamic implications: S. Jorge Island on the Terceira Rift, Azores Triple Junction. Tectonophysics 738-739, 41-50.
Fabbri, S.C., Buechi, M.W., Horstmeyer, H., Hilbe, M., Hübscher, C., Schmelzbach, C., Weiss, B., Anselmetti, F.S., 2018. A subaquatic moraine complex in over-deepened Lake Thun (Switzerland) unravelling the deglaciation history of the Aare Glacier. Quaternary Science Reviews 187, 62-79.
Nomikou, P., Hübscher, C., Papanikolaou, D., Farangitakis, G.P., Ruhnau, M., Lampridou, D., 2018. Expanding extension, subsidence and lateral segmentation within the Santorini - Amorgos basins during Quaternary: Implications for the 1956 Amorgos events, central - south Aegean Sea, Greece. Tectonophysics 722, 138-153
Bendixen, C., Boldreel, L.O., Jensen, J.J., Bennike, O., Hübscher, C., Clausen, O.R., 2017. Early Holocene estuary development of the Hesselø Bay area, southern Kattegat, Denmark and its implication for Ancylus Lake drainage. Geo-Marine Letters, 37(6), 579-591
Al Hseinat, M., Hübscher, C., 2017. Late Cretaceous to recent tectonic evolution of the North German Basin and the transition zone to the Baltic Shield/southwest Baltic Sea. Tectonophysics 708, 28-55.
Fabbri, S.C., Herwegh, M., Horstmeyer, H., Hilbe, M., Hübscher, C., Merz, K., Schlunegger, F., Schmelzbach, C., Weiss, B., Anselmetti F.S., 2017. Combining amphibious geomorphology with subsurface geophysical and geological data: A neotectonic study at the front of the Alps (Bernese Alps, Switzerland). Quaternary International 451, 101-113.
Batista, L., Hübscher, C., Terrinha, Matias, L., Afilhado, A., Lüdmann, T., 2017. Crustal structure of the Eurasia-Africa plate boundary across the Gloria Fault, North Atlantic Ocean. Geophysical Journal International 209, 713-729.
Mitchell, N.C., Ligi, M., Feldens, P., Hübscher, C., 2017. Deformation of a young salt giant: regional topography of the Red Sea Miocene evaporites. Basin Research 29 (Suppl. 1), 352-369, DOI: 10.1111/bre.12153
Feld, C., Mechie, J., Hübscher, C., Hall, J., Nicolaides, S., Gurbuz, C., Bauer, K., Louden, K., Weber, M., 2017. Crustal structure of the Eratosthenes Seamount, Cyprus and S. Turkey from an amphibian wide-angle seismic profile. Tectonophysics 700-701, 32-59.
Betzler, C., Hübscher, C., Lindhorst, S., Lüdmann, T., Reijmer, J., Braga, J.-C., 2016. Lowstand wedges in carbonate platform slopes (Quaternary, Maldives, Indian Ocean). The Depositional Record 2(2), 196-207, DOI: 10.1002/dep2.21,
Nomikou, P., Druitt, T.H., Hübscher, C., Mather, T.A., Paulatto, M., Kalnins, L.M., Kelfoun, K., Papanikolaou, D., Bejelou, K., Lampridou, D., Pyle, D.M., Carey, S., Watts, A.B., Weiß, B., Parks, M.M., 2016. Post-eruptive flooding of Santorini caldera and implications for tsunami generation. Nature Communications 7, DOI:10.1038/ncomms13332.
Hübscher, C., Betzler, C., Reiche, S., 2016. Seismo-stratigraphic evidences for deep base level control on middle to late Pleistocene drift evolution and mass wasting along southern Levant continental slope (Eastern Mediterranean). Journal of Marine and Petroleum Geology 77, 526-534.
Kammann, J., Hübscher, C., Boldreel, L.O., Nielsen, L., 2016. High-resolution shear-wave seismics across the Carlsberg Fault zone south of Copenhagen–Implications for linking Mesozoic and late Pleistocene structures. Tectonophysics 682, 56-64.
Al-Hseinat, M., Hübscher, C., Lang, J., Lüdmann, T., Ott, T., Polom, U., 2016. Triassic to recent tectonic evolution of a crestal collapse graben above a salt-cored anticline in the Glückstadt Graben / North German Basin. Tectonophysics 680, 50-66.
Wolf, D., Hübscher, C., Betzler, C., Lüdmann, T., 2016. Vast amount of accommodation space controlled evolution of a continuous Pliocene-Pleistocene mixed cool-water carbonate-siliciclastic prograding wedge in the Bay of Oran (Western Mediterranean). Marine and Petroleum Geology 73, 86-96.
Weiß, B., Hübscher, C., Lüdmann, T., Serra, N., 2016. Submarine sedimentation processes in the southeastern Terceira Rift / São Miguel region (Azores). Marine Geology 374, 42-58.
Nomikou, E., Hübscher, C., Ruhnau, M., Bejelou, K., 2016. Tectono-stratigraphic evolution through successive extensional events of the Anydros Basin, hosting of the Kolumbo volcanic field at Aegean Sea, Greece. Tectonophysics 671, 202-217.
 All publications here
CV
2007 Habilitation  / Facultas Docendi / Venia Legendi
Since 1998 Senior Scientist at University of Hamburg
1995-1998 Assistant professor at Bremen University
1994-1995 PostDoc at Bremen University
1991-1994 Researcher and PhD student at Alfred-Wegener-Institut for Polar and Marine Reesearch in Bremerhaven
1991 Diploma in geophysics (Westfälischen Wilhelms University Münster)
Research interests
My focus is on geologically applied geophysics, mainly marine reflection seismics and hydroacoustics. Together with my enthusiastic students, we study those processes that imprint the seafloor, e.g., submarine volcanism, mass wasting, shallow and deep base level fluctuations, fluid escape and plate or salt tectonics. Most of these processes work in the upper km beneath the seafloor, which allows applying high-resolution seismic systems. However, from time to time I like to see the Moho, than we do deep crustal seismics as well. During recent years, I started to experiment with near-surface geophysics onshore, the objectives are mainly related to neotectonics. The collision zone between the Africa and Eurasian plate that stretches from the Azores to the eastern Mediterranean, the Baltic sector of the Tornquist Fan and Bay of Mexico are my main playgrounds.
Teaching
BSc in Geophysics and Oceanography
Geophysical data interpetation
Marine geophysical seminar
Applied geophysics (non-seismic methods)
Field exercises (off- and onshore)
MSc in Geophysics
Publications, projects and expeditions
Publikation data base of the Institute of Geophysics here
---