Acoustic 2D reverse time modelling
This is an example of a 2-dimensional numerical acoustic reverse time simulation. Here, reverse time modelling  is applied to the problem of seismic source location. The general idea is to reverse the process of seismic wave propagation in time. Therefore, the seismic wave field which was recorded from e.g. surface receivers can be applied as time-dependent boundary conditions. The animation consists of two parts:
1) The forward modelling where the simulation produces seismograms recorded at the surface due to an explosive source acting in the deep.
2) The reverse time modelling where the recorded seismograms are fed into the modelling scheme as boundary conditions.
The table shows the modelling parameters. The animation first shows the seismogram section (bottom) and a series of snapshots (top) at times delta_t apart. The snapshots are displayed together with a complex subsurface structure. The seismogram section grows with time according to the time of the displayed snapshot. Early times are at top, late times are at bottom of the seismogram section. Later, the reverse process is shown. The time reversed seismograms (i.e., last recorded sample first until first sample is reached) are fed into the numerical scheme as boundary conditions at the surface. The seismogram samples currently fed into the algorithm are indicated by an upward moving  horizontal line in the seismogram section.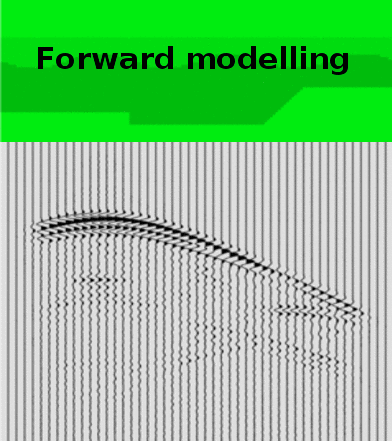 Model parameters
| | |
| --- | --- |
| nx | 143 |
| nz | 57 |
| delta_x | 10 m |
| delta_z | 10 m |
| delta_t | 12.5 ms |
| t_max | 0.75 s |
| f_max | 100 Hz |
| vp | 2000, 2500, 3000, 2000 m/s |
As can be seen in the animation during reverse time propagation the wave field converges towards the source location. To estimate the source position the amplitudes in any subsurface grid node need to be checked for maximum amplitude. The process of time reverse modelling as shown here is not exactly the inverse of the forward problem. One of the reasons is that the wave field is recorded only at the surface. However, in the above setup the exact position  and start time of the seismic source could be estimated. Details can be found in the reference below.
Reference:
Gajewski, D., Tessmer, E., 2005,
Reverse modelling for seismic event characterization.
Geophys. J. Int. ,163, 276-284.