Projekt: Urban Climate
Interactions between cities & climate
Cities and climate interact in various ways.On the one hand, cities produce a distinct patchwork of local climates which result from a superposition of the site-specific macroclimate, mesoscale urban effects, controlled by size and morphology of the city, and microscale effects of the altered energy balance. On the other hand cities account for most of the global production and consumption of goods as well as traffic and therefore produce a huge share of the global anthropogenic greenhouse gas emissions. Since geography as a discipline has a long tradition in both, climatology and city research, we intend to integrate both traditional foci in an overall consistent research structure, ultimately targeting at the identification and definition of operational climate mitigation and adaption strategies for urban development perspectives.
Relevance and urban climate risks
Regarding the different interactions, urban areas play a key role for both mitigation and adaption to global climate change. While both aspects cannot be regarded separately, the strong focus of this working group is on the city as a receptor of climate change. This is highly relevant for several reasons. First, most of theworld's future population that will be prone to climate change induced risks will be living in cities (with rapid urbanisation processes in the countries of the global south, which can be expected to be particularly vulnerable to climate change impact). Further, cities produce specific risks and urban adaption is highly temporally and financially demanding.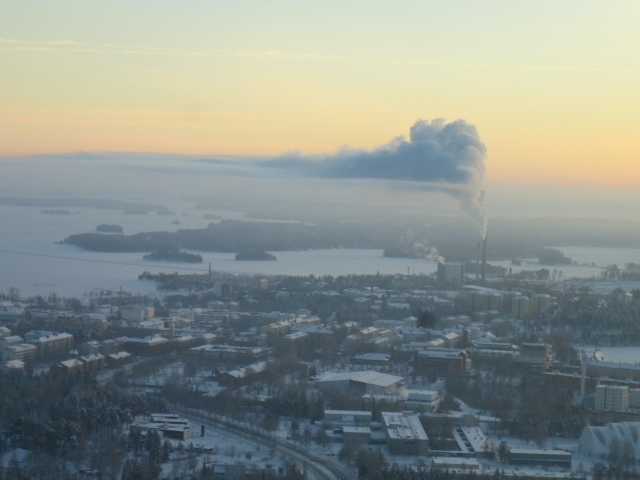 The mayor risks induced by global climate change in urban areas are considered to be overheating and resulting health effects, increased exposition to flood events and damage from extreme weather conditions such as heavy rain- and windstorms. In a wider sense, risks also include shortages in the supply with life-sustaining services including food, water and energy. In this project we focus on the direct bioclimatological risk of overheating.For a profound risk assessment we need extensive knowledge about both, (future) urban climate (exposition) and coping capacity of the whole urban system as well as specific groups within it (vulnerability).
Understanding urban morphology and climate
Metropolitan areas are assumed to be sensitive 'hot spots' of climate change and climate induced risks due to the distinctive conditions and their direct, often crucial implications for human health and comfort, consumer behavior and local economy. Urban climates, however, are characterized by an enormous heterogeneity due to different land-use and morphology and thus demand a sufficient spatial representation of atmosphere-surface interactions and morphologic settings in climate change impact assessment studies.
The tremendous spatiotemporal diversity of climatic settings in cities is not sufficiently understood yet. Since available climate data from observation mostly lack spatial coverage and resolution and coverage of numerical models are restricted by the computing power and urban canopy processes are usually greatly simplified, there is a lack of information about different urban climates at scales required for planning purposes and climate change impact assessments in the Metropolitan Region of Hamburg.
Therefore both, extrapolation from local observations and climate modelling in urban areas have to be improved in order to fill the gap between regional climate models and in situ measurements. Furthermore, a dynamic concept of urban land use must be developed in order to incorporate the rapid change of urban areas in climate modelling.
Although the Metropolitan Region of Hamburg might not be facing the most severe problems in terms of overheating, we consider it as a test case to develop new modelling approaches.
Team
Prof. Dr. Jürgen Oßenbrügge
Prof. Dr. Jürgen Böhner
Dr. Benjamin Bechtel
Urbane Fernerkundung
Work Package I : Analysis of urban microclimates by remote sensing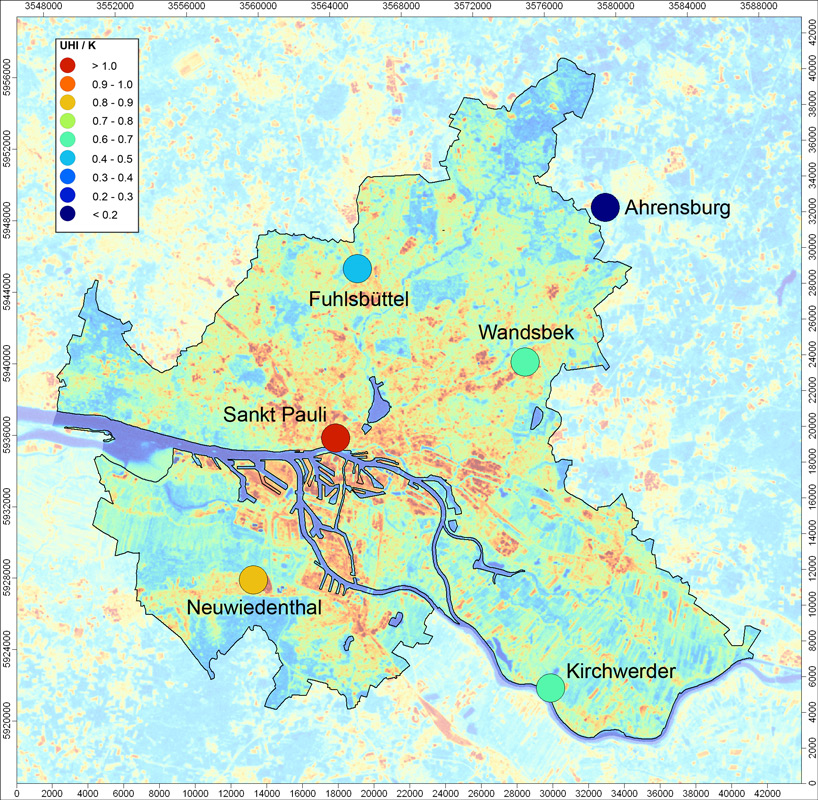 The first work package aims to contribute to an improved understanding of microclimatic influences of the heterogeneous urban land-use and morphology. We intend to develop and implement state of the art methods to analyse the local energy balance by specific spectral response pattern of the modelling domain on different radiative conditions. Secondly, a set of extensive climate relevant urban surface parameters will be developed including spectral, thermal, and morphological features, as well as land cover and advanced parameterisations of the urban surface roughness.
Those parameters shall give a better representation of microclimatic relevant urban morphology and thus allow for empirical modelling of the spatial variation of the urban heat island magnitude.
Further, the urban surface parameters will be used to automatically classify regions of homogenous local scale climatic conditions (local climate zones). The used classes are closely related to urban land use types and hence provide an interface to planning applications and the dynamic urban land use modelling in work package III. They can also be regarded as first step to an expert system for analysis and assessment of the climate relevance of urban structures.
Klimamodellierung
Work Package II: Recent Urban Climates – Modelling and Downscaling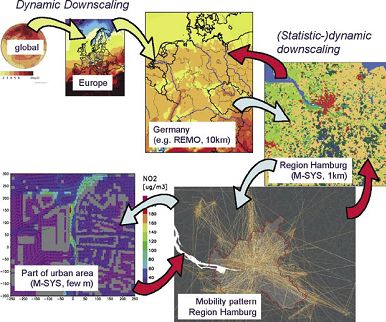 The second sub-project aims to develop a comprehensive modelling approach for the city of Hamburg. It will allow spatio-temporal high resolution regionalisation of urban climate change effects like rainfall extremes (flooding) or heat waves (associated with high ozone concentration). In order to enable a physically consistent simulation we propose a hierarchical modelling scheme of statistical and dynamical downscaling steps in which advanced surface parametrisation methods will take into account the topographic heterogeneity. This combination, which comprises design, implementation, and validation, will make use of:
consecutive dynamical downscaling steps for the mesoscale using the non-hydrostatic Regional Climate Model (RCM) Weather Research and Forecast (WRF, Done et al. 2004), forced by global atmospheric data (re-analyses and GCM scenario runs); statistical downscaling for the microscale (Böhner 2006) using advanced climate variables of higher spatial resolution and surface parametrisation methods (Böhner & Antonic 2008) in Geographical Information Systems (GIS) like SAGA GIS. This hierarchical model chain should close the gap between the scarce resolution of today's RCMs (3-5 km) and the needed resolution for urban management caused by limited computational power. Major conceptual objectives in the climate modeling context are: Firstly, to investigate the urban response to natural and anthropogenic perturbations during present and future time periods; secondly, to provide climatologic information for impact studies in the project framework at appropriate spatio-temporal scales.
It is foreseen to aggregate the work of WP I and III to improve the description of multi-scale characteristics of land-atmosphere interactions. In the end it should be a portable Urban Climate Model to make use of in every city affected of climate change.
Stadtmodellierung
Work Package III: Socio-economic and demographic factors of climate vulnerability and dynamic urban land use modelling
The goal of this work package is an ,improved understanding of the urban dynamics in the metropolitan area of Hamburg and to assess the coping capacities of the urban system.
Firstly, an extensive GIS database will be created which combines past and current data about land use, demographic and socio-economic data. This ought to help us gain a better knowledge of the processes within the city. Most importantly, how the city has developed. Dividing the city into climate relevant structures and understand how the building density and demography has developed in them.
Using the data collection, we intend to evaluate the coping capacities and vulnerability. Trying to identify hot spots of climate change impact (e.g. old people who are most vulnerable to extreme heat situations).
Further on, we aim to create a dynamic land use model. Predicting future trends for Hamburg for the years 2050 and 2100. Agent-based modelling is the favourable method, we plan to utilise. The dynamic land use model is then used as an input for the regional climate model used in WP II. Creating a dynamic land use input for regional weather models.
Planung und Politik
KLIMZUG-NORD (Teilprojekt Q 4.1, Arbeitspaket 3): Ökonomische Regelungsformen der Climate Adaptation Governance
Die im Verbundprojekt KLIMZUG-NORD beteiligten Forschungsinstitutionen gehen davon aus, dass die Region in der Zukunft von den Folgen des Klimawandels betroffen sein wird. Generelle Aufgabe und Ziel des Forschungsverbundes KLIMZUG-NORD ist daher die Ausarbeitung konkreter Anpassungsmaßnahmen und die Entwicklung von Strategien und Konzepten, die die regionalen Planungs- und Entscheidungsprozesse auf mögliche Folgen des Klimawandels in der MRH vorbereiten.
Die räumlich-thematischen Schwerpunkte des Projektverbundes liegen in den Bereichen "Ästuarmanagement", "Integrierte Stadt- und Raumentwicklung" sowie "Zukunftsfähige Kulturlandschaften". Darüber hinaus werden fünf übergeordnete Querschnittsaufgaben (Klimawandel, Naturschutz, Ökonomie, Governance und Kommunikation und Bildung) bearbeitet.
Das Institut für Geographie ist an KLIMZUG-NORD im Rahmen des Teilprojektes "Regelungsformen für die Anpassung an den Klimawandel (Climate Adaptation Governance)" beteiligt. Ziel dieses Teilprojektes ist es, in Kooperation mit Stakeholdern aus der Region rechtliche, ökonomische und informelle Regelungsformen zu entwickeln, die eine schnelle und flexible Umsetzung der Anpassungsstrategien und -maßnahmen ermöglichen und die Akzeptanz dieser Maßnahmen bei der Bevölkerung erhöhen.
Am Institut für Geographie wird untersucht, welche ökonomischen Instrumente geeignet sind, um die Anpassung an den Klimawandel in der MRH zu fördern. Dabei wird wie folgt vorgegangen: zunächst werden durch eine Literaturanalyse bereits in anderen Bereichen genutzte ökonomische Instrumente identifiziert. Anschließend wird ihr Potential für die Förderung der Anpassung in den Bereichen "Städtische Wärmeinseln" und "(Binnen-) Hochwasser" geprüft. Die Bewertung und gegebenenfalls Modifikation der ökonomischen Instrumente erfolgt auf der Basis von Interviews und Kooperation mit Experten aus der Forschung sowie der regionalen Verwaltung und Wirtschaft.